THE VISOR
The product is a single-use visor designed for GPs, in-reach physicians and nurses in obtaining swabs from potential COVID-19 patients. Providing these visors to such care providers will help in reserving the full PPE for staff in departments dealing with confirmed cases of COVID-19 such as the ICU.
The visors are effective, straight forward designs. We have designed both eye protection and full face versions. All required materials and methods for manufacturing these visors are readily available in Australia. Furthermore, the visors pack flat, allowing for cost-effective shipping and storage.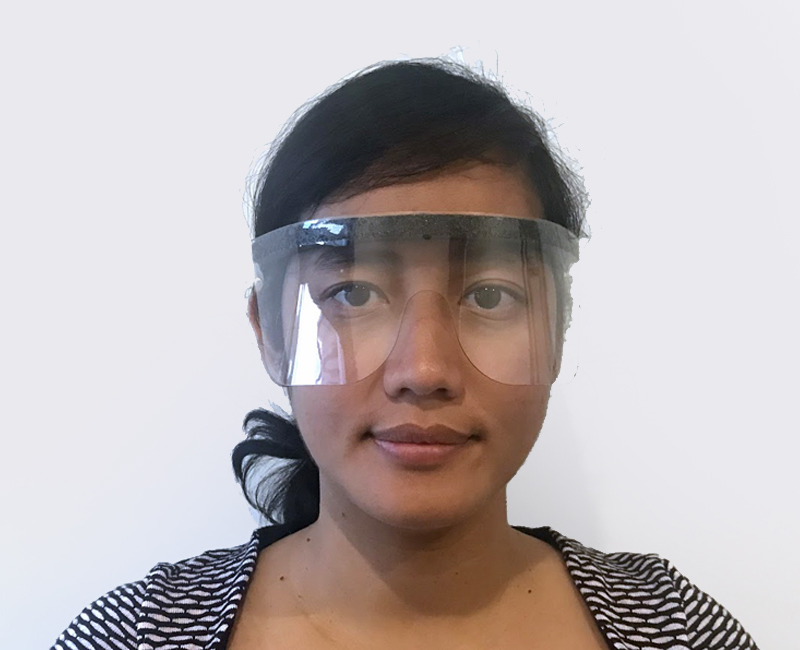 Eye Shield

Full face shield
Features:
- One Size Fits All - Easy adjustment
- Soft Foam brow piece makes it comfortable to wear for extended periods
- Flexible material conforms to different head shapes
- Enough offset from the face for glasses and masks to be worn comfortably
- Fast removal without touching the front of the visor
- Intentional breaking of the strap upon removal ensures single use only


Fit


Tighten


Remove
DESIGN AND MANUFACTURING
The visor designs came about when Dr Thinn Thinn Khine, a physician serving at the Monash Health residential aged care in-reach team, complained to her husband Dr Nyein Chan Aung about shortages in PPE amid the COVID-19 pandemic. Dr Aung immediately got in touch with Mr Joseph Schibeci, and together they rapidly designed and prototyped the product in hopes of helping Australian health care workers stay safe.
Joseph Schibeci - Designer, Manufacturer
Joseph has been in the manufacturing industry for the last 25 years. 18 years of which was in the Mining, Roadworks and Civil Contracting industries, designing, manufacturing and supplying a dealer network spanning 23 countries. Joseph's Workshop, a manufacturing company, located in Thomastown, combines modern CNC & Automation capabilities with traditional handcrafting practices.
Joseph works with designers, researchers and large scale industrial manufacturers. His facility is equipped to work with a broad range of materials including metals, timber and engineering plastics and their manufacturing capabilities range from bespoke research-grade prototypes to high volume production.
Dr Nyein Chan Aung (PhD Industrial Design) - Designer, Design Researcher
Nyein is a design consultant and a design researcher who specialises at the cross-section of mobility and health care and his previous and current work includes;
- An aircraft cabin design to improve passenger in-flight sleep; and
- A set of movable articles that can convert a sub-acute room into a palliative care room.
Dr Thinn Thinn Khine (FRACP Endocrinology) - Clinical Advisor
The visor has been reviewed and advised by Dr Thinn Thinn Khine, currently a Senior Registrar in Geriatrics for her second FRACP at Monash Health. Thinn Thinn has been providing detailed feedback regarding the needs, safety requirements, proper PPE donning and doffing and the swabbing workflow of potential COVID-19 patients.
Joseph Schibeci
0417 088 551
joseph@josephsworkshop.com.au
www.josephsworkshop.com.au
Dr Nyein Chan Aung
0421 921 838
nyein@uglykid.org
www.nyeinaung.com